OVERVIEW
Ready Room has everything you need to prepare for and manage GXP regulatory inspections, site audits, or partner due diligence reviews.
Fast, secure, and easy to use, Ready Room replaces your slide decks, trackers, folders, video conferencing systems, and chat rooms with a single system to fully manage inspection requests from start to finish.
Inspection Management
Intuitive drag & drop workflow. Create requests, assign them to team members, attach documents, QC deliverables, and release to inspector.
Storyboards
Create effective storyboards. Start from scratch or by using one of our 160 GCP and GMP templates. Assign storyboards to team members and use our flashcard feature to practice delivery.
No Limits
Our annual license gives you continuous product updates and unlimited everything: users, inspections, attachments, storyboards, and, well, everything. No more counting seats. Invite anyone from anywhere.
SaaS
Hosted in the cloud means there's nothing to install or configure. You'll be up and running in seconds. The only thing your distributed team members need is a browser.
Secure
Single Sign-On via Azure AD, Okta, or Duo. All of your data is securely stored in Google's Cloud Platfrom, where everything's encrypted at rest and in transit.
Collaborate
Auto updating UI. Integrated scribe notes, chat, and video conferencing. Real time notifications.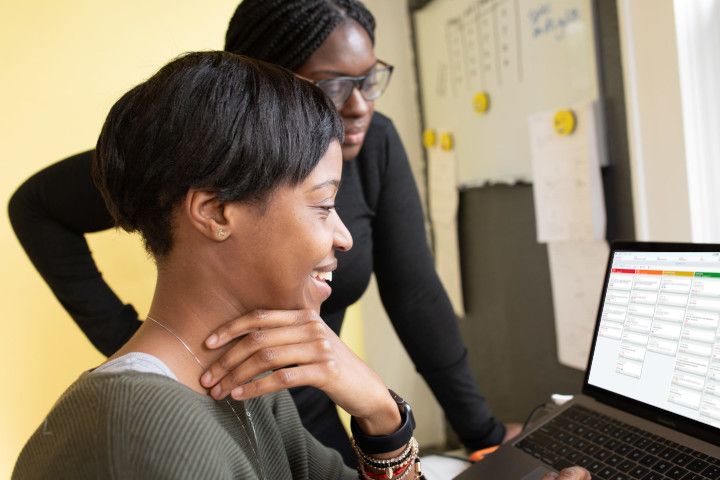 Regulatory inspections can be nerve-wracking. Days and weeks of questions, interviews, and requests for documentation. Make a mistake and you risk a delay, or worse, a finding. Most life sciences companies try to manage inspections with heavy-handed processes involving spreadsheet trackers, shared drives, chat rooms, and a great deal of finger crossing.
Ready Room puts an end to all that. Using the latest technology, Ready Room presents a simple and intuitive, drag and drop workflow that's synchronized across every team member's desktop. With simple request handling, unlimited document uploads, and a rich suite of collaboration tools, your team can easily handle anything that comes at them, regardless of whether they are local or remote.
Inspection Readiness
Tell Your Quality Story
Throw away your slide decks and shared drives. Create and refine your storyboards in Ready Room starting with our "fill in the blank" GCP and GMP templates. Upload associated documentation and add metadata. When you're ready, assign storyboards to interviewees and a coach from the QA team, then use our unique "flash card" feature to rehearse. Share storyboards across inspections and click to turn them into inspection requests.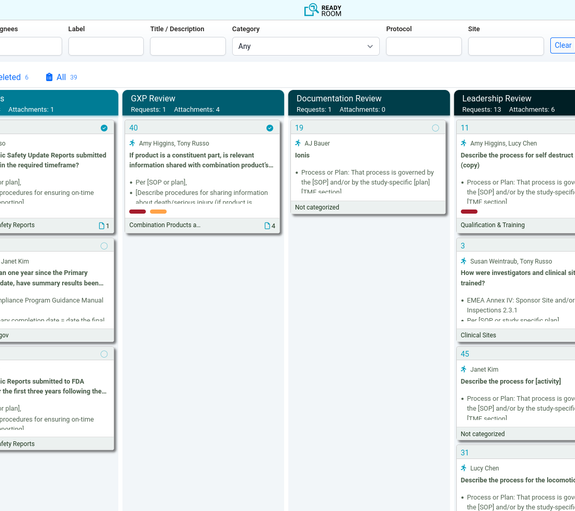 Inpection Management
Effortlessly Manage Inspection Requests
When the inspectors call, use Ready Room's inspection board to capture, manage, and assign requests; enter formal responses and attach documents; and deliver responses electronically to the inspector. The color-coded board lets the whole team visualize the status of each inspection request at a glance, while scribe notes, comments, video briefings, and chat facilitate communication.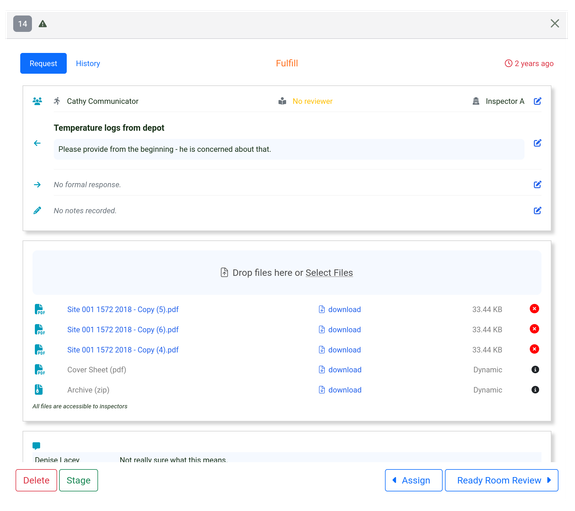 Need to See More?
Schedule a two week, full access, pilot for up to eight participants!
Take a Test Drive
What our customers are saying
OUR TESTIMONIALS
Ready Room brings organization to a process that many people consider chaotic. It's vital to our success as we continue to manage a range of regulatory and compliance requirements.
Roan Martin
VP Quality Compliance, X4 Pharmaceuticals
Ready Room set itself apart from other software products with its ability to update the request list in real time. Our people found the interface easy to use, intuitive, and inviting.
Executive Director, Head of Research Quality
Ready Room is a godsend. I've never seen a back room so calm.
Sr. Director, Head of Quality Systems
Ready Room allows us to run inspections with fewer people. That's important for a company our size.
Director Quality Systems and Compliance
The whole team was remote. We could never have processed all those requests without Ready Room.
Inspection Team Member
I love the interface. It really draws you in and makes you want to use it.
Inspection Team Member
The realtime updates to the Scribe Notes and the Kanban board were really appreciated.
Sr. Director, Global Quality Operations
I know Ready Room works because no one's asking me questions.
Inspection Team Lead
Proven inspection management for the life Sciences industry
Biotech, pharmaceutical, medical device, CMOs, CROs, and laboratories big and small are getting ready with Ready Room.
Get a Demo